See the latest prayer letter here: May 2017 prayer letter
St Philip's Yei, South Sudan
St Barnabas has a partnership with St Philip's parish church in Yei, South Sudan. In April 2013 our then vicar Philip Cochrane together with his family visited Yei along with one of the church wardens Brian Whalley.  It was a memorable visit and the partnership began from this. Brian, John and Poppy Spens, and Philip returned in June 2014 for the dedication of a new church building and to continue the development of the healthcare facilities. John and Poppy returned in 2015 and most recently in April 2016 with our Priest in Charge Revd Ed Dines.
Why South Sudan?
A couple from St Barnabas, John and Poppy Spens, spent five years working in South Sudan with CMS Ireland from 2006 to 2011.  John went initially to look after the management of the Diocese of Yei vocational training college for 6 months while Poppy went to assist the staff in the Diocesan Health Clinic.  The initial one year assignment stretched to two, then three, then four years with each job changing and growing.  John handed over responsibility for the vocational training college to a local Sudanese manager and began to oversee the construction of primary schools, pit latrines and boreholes using money raised by CMS Ireland, mostly through the Basic Services Fund.  Meanwhile, Poppy oversaw the construction and equipping of two brand new primary health care centres, training over 50 health staff and developing an eye clinic, a children's ward and a mobile clinic.   They also set up a Winchester-based charity The Brickworks to support the ongoing training of health staff, to help train teachers and to support the work of the Diocese of Yei.  You can see more about The Brickworks at www.thebrickworks.org.uk.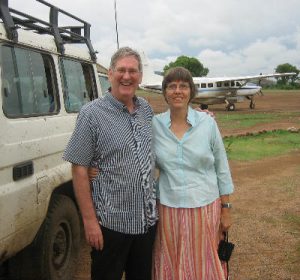 St Philip's Church
St Philip's is a thriving church belonging to the Episcopal Church of Sudan and South Sudan (ECSSS), part of the worldwide Anglican church.  It is led by Pastor Yoasa with good support from a number of both ordained and lay leaders.  It has a thriving Mothers Union, Sunday School, several choirs and has no less than 51 evangelists.  A major focus in the life of St Philip's Church has been the construction of a new church building to replace its former thatched church.  What has been achieved by this congregation, where few are in paid employment, is truly staggering and we feel privileged to have this partnership with St Philip's where we feel we can learn so much from their deep commitment to Jesus and their joyful and sacrificial giving.  Music plays a big part in all their Sunday services and you can hear a sample by visiting www.faithlineministries.com/music.  Philip Cochrane, Brian Whalley, John and Poppy Spens returned to Yei to attend the dedication of the new St Philip's Church building on Sunday 15th June 2014.  
April 2016
At the end of April a delegation from St Barnabas including John and Poppy, Revd Ed Dines and Claire Pearce, along with other healthcare workers from Winchester hospitals went out to Yei. The main areas of focus for this visit are developing healthcare, education, and sharing in teaching the word and love of God.On this visit the group worshiped with St Philip's Church, met with church leadership and Faithline Ministries; visited various hospitals and clinics including Martha Clinic and Yei Civic Hospital, KajoKeji Hospital, a new clinic site in KajoKeji and Midwife Training School; met the students we have funded at Yei Teacher Training College, and Bishop Alison Theological College; visited various schools such as Lizira for the opening of new classrooms, new classrooms at Wudu Primary School and a new dormitory at Romogi Secondary School. They also carried out maintenance and repairs, met with the local Mothers' Union branch and other friends, and developed relationships. Furthermore, they made progress towards a link between a C of E infant school in Hampshire and Immanuel Kindergarten in Yei.
Also a new rule has been introduced that all non-residents must register as aliens within 72 hours of their arrival.  So we produced our own passport photos using blank business cards and we registered at the Immigration office and paid the fee that was requested – about £25.   We've shopped in the supermarket and found some Heinz beans and corned beef so are well set up for the weekend.  (John)
We were really encouraged when we visited Martha Clinic. Charles the manager has grown in confidence and the team is working well in all the departments. The death rate of sick children is very high in South Sudan, and so it was hugely encouraging to hear that no children have died at Martha Clinic for 6 months, even though the ward is always over capacity. A new ward is required to cope with the high numbers needing admission.
We are hoping to obtain places at Yei Health Training Institute for 2 student midwives and 1 student laboratory technician – they will be interviewed on Oct 23rd and will be sponsored by Brickworks. They are all current junior staff who are able and reliable and to upgrade their training will be beneficial to Martha Clinic in the years ahead. The main issue with the clinic is the need for funding so please pray the funding proposals that are being sent in will be successful. (Poppy)
---